Pirates of the Carolinas: North Carolina Pirates, South Carolina Pirates

The Pirates of the Carolinas are strongly linked to Bath Town to the north and Charles Town to the south. Miles apart on the map and even farther apart in their relationship with the Brethren of the Coast, they tell a contrasting story of love and hate, profit and loss, peace and war.
In this article: Charleston / Bath
Pirates in America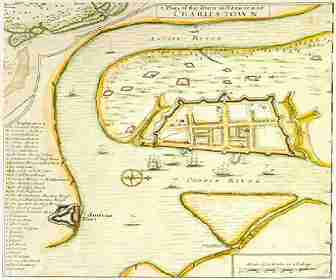 Charles Town
(Charleston)

, South Carolina-

Founded on the banks of the Ashley and Cooper rivers in the 1600's, Charles Town was a major port city in a state that only rarely had a governor who welcomed pirates or their trade, although it was known that men of that sort mingled with the locals during or after their career.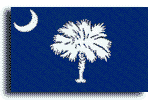 Buy Flag (more info)
Charles Town leaders and residents grew increasingly intolerant of the raiding and plundering of men like William Lewis. The embarrassing blockade of the port which Blackbeard performed in May of 1718 and the terrorizing of Charles Vane a while later were so infuriating that Governor Robert Johnson dispatched Colonel William Rhett in the ships Henry and the Sea Nymph to deal with the criminals once and for all.
Rhett had a close brush with Vane, and eventually caught up with Stede Bonnet in the Cape Fear River in September of 1718. Bonnet was hanged in Charleston in November of that year with 30 of his crew.

Today, Charleston is arguably the capital of southern colonial history, and those visitors eager to take it all in can have a walking tour and get their fill of pirate lore.

Charleston Pirate Tours / Queen Anne's Revenge Restaurant


Bath Town
(Bath)

, North Carolina-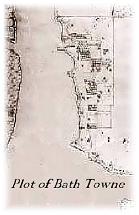 The first town in North Carolina was founded in 1705 on the Pamlico River fifty miles from the Atlantic. As the site of the first port of entry and shipyard in the state,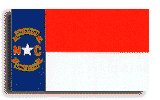 Buy Flag (more info) it was symbolic of the welcome sign hung out for pirates from the Ocracoke on the Outer Banks and Pamlico Sound to the Cape Fear River near Wilmington. The shallow coastline which hindered imports from merchant ships also lent itself well to the imports and refuge of the shallow-draft pirate vessels.
In Bath Town's succession of state governors, the one most predisposed toward pirates was Charles Eden, who often offered pirates like Stede Bonnet and Blackbeard pardons and also accepted bribes along with other officials in exchange for the pilferred goods deposited in the local market.
Blackbeard preferred North Carolina and Bath Town in particular as his home during his last year of 1718. His wild pirate parties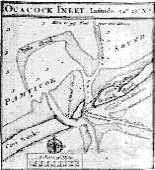 at Ocracoke with fellow brethren like Charles Vane and his unrefined living among the residents were among the things that wore their patience thin in time, yet it took an intolerant Governor Spotswood of neighboring Virginia to bring decisive action against this living legend.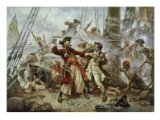 Lieutenant Robert Maynard was sent with two sloops, arriving at Ocracoke on November 21, 1718, and the next day marked the end of the most famous of all pirates. After a ferocious battle, Blackbeard was killed and beheaded, then Maynard took the captured crew along with those rounded up in Bath Town back to Williamsburg. Thirteen of the crew were tried and hung in March 1719.
More about Blackbeard

Bath Town's hopes of being the capital faded as towns with more advantageous locations developed. Today it is a small village with a large claim to the title of The Home of Blackbeard, probably the most widely recognized pirate in the world.

Bath Today / Ocracoke Island / The Outer Banks