Howell Davis, Pirate Howell Davis, Captain Howell Davis

Welsh-born Howell Davis first started down the road toward piracy around 1718 after the slave ship Cadogan which he served on as first mate was overtaken by pirate Edward England off the West African coast.
Being true to his generous nature, England gave the Cadogan to Davis, who planned to sell it in Brazil. The crew persuaded him to sail to Barbados, where they were welcomed with three months in prison on suspicion of piracy.
New Providence seemed like a great destination upon release, but Howell Davis quickly changed his mind after arrival when he heard of the new governor Woodes Roger's anti-pirate stance. He chose instead to sail for the West Indies aboard the Buck, and at Martinique, he convinced the crew to return to their former lives of piracy and elect him as their captain. Woodes Rogers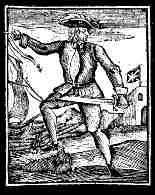 Two French ships were taken by deception, then they sailed to the West African coast. The cunning Davis got supplies from a local Portuguese governor through his frequent ruse of being a British privateer. Several ships were then looted at Maio, including 26-gun vessel chosen to be his new Saint James.

Buy Flag (more info) After sailing with a couple of other pirates for awhile, Davis went solo again, acquiring gold, ivory, and slaves. He then abandoned the dilapidated Buck to create a 32-gun ship from the Rover. Fellow Welshman Bartholomew Roberts came under Davis' tutelage after the slave ship he served on was captured off the Gold Coast. The end of Roberts' illustrious career was to mark the end of the Golden Age of Piracy.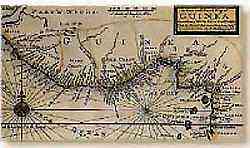 Not long after the St. James was abandoned for a new Dutch ship, Davis found trouble in Principe (off Guinea), where he again attempted to convince a local governor that he was actually privateering. His trick failed when he and his crew were killed by Portuguese soldiers. It was rumored that Davis was planning to murder the governor or hold him for ransom. The rest of the crew elected Bartholomew Roberts captain, and he led an attack on the fort and town in reprisal.