Madagascar, Pirates in Madagascar- Pirates Hideout


As the fourth largest island in the world located just 250 miles from the east coast of Africa, Madagascar pirates were provided refuge and sometimes much more for those who understood its appealing closeness to the wondrous prizes of the Red Sea and the Indian Ocean.
Pirates in Africa -
Pirates of Madagascar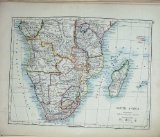 While used as a pirate base almost continuously throughout the Golden Age of roughly 1690 to 1730, it was a great escape from Caribbean spots made less appealing whether by military reprisal, intolerance, earthquake, fewer targets, or diminished need for privateering forays. Good weather and secluded coves, friendly locals (and friendlier women), fresh water, abundant food, and no rules meant Madagascar pirates could easily achieve the lifestyle of a king in any one of several locations around the island.
Popular spots included: Ranter Bay, Saint Augustine's Bay, Diego Suarez, Fort Dauphin, Reunion Island, Mauritius, Charnock's Point, Johanna Island, Mathelage, and the most-favored Ile Sainte Marie, also known as St. Mary's Island.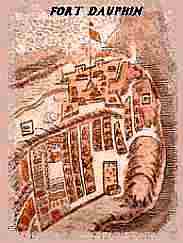 St. Mary's was first claimed around 1685 by Adam Baldridge, who became a prosperous pirate trader through the 1690's. He would supply the pirates with basics and trade the island's resources (cattle and food) for some of their plunder, which was shipped back to New York in return for more supplies.
He was elevated to the status of a king, living in his hilltop mansion and fort, and in time there were as many as 1500 others who had come to live at St. Mary's. Baldridge found it best to leave in 1697 after upsetting the natives over his slave trading practices, and his kingdom was sold to Edward Welch.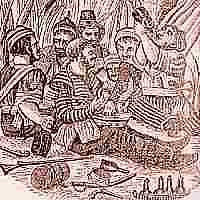 Thomas Tew and his great success around 1693 in the Red Sea caused a frenzy of activity in America, the Caribbean, and England as others prepared to seek fortune in the same region as he did. Men like Henry Every and William Kidd took advantage of Madagascar's bounty to reprovision, repair, and rest.

Buy Flag (more info) Success often breeds contempt, however, and the island saw a period of idleness after the turn of the 18th century, when military patrols often chased away those whom pardon did not eliminate. Only a relative handful remained by 1711.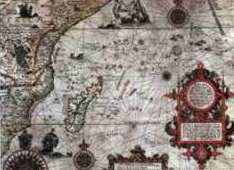 One more brief flurry of activity occurred after 1718 when Woodes Rogers cleared New Providence of pirates, and men like Edward England, James Plantain, and Christopher Condent used the area as their base.
Madagascar Today-
Having grown to a population of about 16 million, today's Madagascar is a land of farming, fishing, mining, and forestry that faces the challenges of many nearby nations, such as widespread poverty, a lagging economy, and growing environmental problems. Tourism is only recently beginning to emerge as an industry.

Pirates in Madagascar / Madagascar Pirates / Pirates in Madagascar- Columbia.edu