The Pirate Platoon!- The Pirate's Realm
"We are a Maintenance platoon for a FSC (Forward Support Company), In the 7th 101st Aviation Battalion or GSAB (General Support Aviation Battalion) under the 159th Aviation Brigade, in support of the 101st ABN Division. (Man that was long.)"(continued below)

---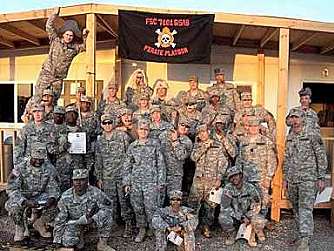 Support our troops at AdoptaPlatoon.org. The AdoptaPlatoon Soldier Support EffortT founded in 1998 is a nonprofit 501C-3 organization managed nationwide by volunteer mothers to ensure that deployed United States Service members in all branches of the military are not forgotten by providing needed mail support and to promote patriotism in our schools and communities. To provide a better deployment quality of life, lift morale, and assist military families, the AAP created projects that meet the need of military requests, established special projects for holidays, and assigns individual morale lifting mail support to service members of all branches of the U.S. military serving their Nation around the world.
---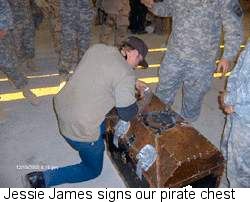 "...As a Unit, we are only about a year and a half old. We were the first Company of our kind in the Army to stand up under the Army's new Modularity Transformation. Our company is known as the Iron Dogs and consists of three Platoons, Maintenance, POL (Fuel handlers, they fill the helicopters) and our Headquarters Platoon (they take care of all our administrative stuff). We support a Battalion's worth of helicopters and then some. Our helicopters enable the division to take the fight to the enemy, any time, any place. Our Platoon, over 30 strong, is responsible for the scheduled and unscheduled maintenance on over 145 vehicles, to include 18 Hemtt Fuel tankers. We have a welding and fabrication shop, AC shop, Generator Shop, an ATV small engine repair shop or as we call it the Gator shop, the Automotive Shop and 3 CRT (combat repair teams). We feel we are the best maintenance facility on the base and have proven it time and again. Maybe a little arrogant but the Soldiers have a right to be, they deserve it as it is them who make us all look good.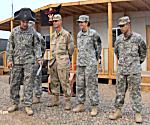 The Platoon logo is the Pirate Platoon; we all have a lot of fun with it. We have pirate names and a pirate chest that we bring out on Pirate day. About once a month we have a time we set aside to get us all together (as Pirates and recognize Soldiers for their accomplishments or promotions).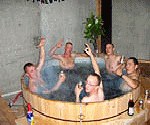 Sometimes it's to welcome a new Soldier aboard and give him a Pirate name. We have every thing from Commodore Red Eye, Commander James, T. Kirk to Catwalk Kate and Black Tom Rackham. Like I said, we like to have fun with it. Now what's a pirate with out water? So after first arriving in country, my resourceful Soldiers actually built a hot tub using junk and scrap material. We have a hot tub company that sponsored us and sent us all the proper chemicals to maintain it. his is the link that has the story about how we built it." Pacific Sands
Contributed by SFC Bryan S. Lindsay, aka Captain Barnacles
Support our troops at AdoptaPlatoon.org.
To link to us, click here
/ Visit our other pirate site -
Blackbeard's Realm

©Copyright 2003-2007 The Pirate's Realm, thieves shall be gullied and fed to the sharks!